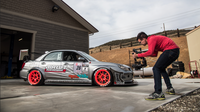 About Us
Gears and Gasoline began in 2015, the product of a couple of guys named Ben who wanted to make high quality automotive content with a cinematic focus.
In 2017, we quit our day jobs and went full time. Now our every waking moment is spent filming or editing some kind of car footage (or maybe tinkering with our projects), and that's exactly what we've always wanted. Thanks for checking out our page, we hope you find something here to feed your obsession.
Gears and Gasoline is a video production company with a Youtube channel as its outlet. With nearly 1,000,000 subscribers and 108,000,000 views, we hope to spread positivity in the car community and shine light on all different aspects of motorsports.